SMO SERVICES IN CHANDIGARH: Build Online Brand with Best Social Media Optimization Services
Social Media Optimization holds the top spot in the advertising and promotion world.
Pinaak is one of the Best Social Media Optimizations (SMO) companies in Chandigarh, India.
This helps you to create awareness through social media platforms about your products and services.
Our social media optimization services have helped small and medium-sized businesses as well as large firms to gain active leads and get attention that were easily converted into sales opportunities.
Social Media Optimization Process
Invest in Result Driven SMO Services to Promote Your Business
Pinaak, a top Social Media Optimization Company in Chandigarh, specializes in managing both organic and paid Social Media Marketing campaigns (SMM). Our company has a long history of increasing social presence online on social media platforms like Facebook, Twitter, Instagram and LinkedIn. Our SMO specialists have extensive knowledge in increasing traffic and maintaining a good online reputation over a long time. What makes our SMO service different? Our affordable social media marketing services can help you build your online brand and increase sales.
We offer top-quality Facebook marketing services that meet your business needs. Our SMO specialists are highly skilled in creating a Facebook page, growing likes and followers and posting in groups. They can also increase likes in Group pages. We can also post engaging content and interact effectively with the right audience to promote your brand.
Twitter is one of the most effective ways to promote your business on a large scale. SMO services Chandigarh, India provide twitter marketing services that engage and grow both local and international businesses. We offer services such as account setup and maintenance, tweet posting, increasing followers and hashtag research. Our services are current and tailored to your business's needs. Our SMO specialists are highly skilled and trained in managing the twitter marketing campaign professionally.
LinkedIn is a popular professional networking platform. We offer LinkedIn marketing services to increase brand visibility. We offer a range of services, including company page setup, daily postings, group postings, increasing followers, and connections at very reasonable rates. Our SMO experts will help you build a brand and get leads quickly.
Instagram is a popular social media platform for sharing photos and videos. It can help you promote your business and increase sales tremendously. We provide Instagram marketing services such as account setup, posting per day, and growing followers according to your requirements. Social media marketing experts from our company will help you get 100 percent positive results.
YouTube marketing services include YouTube channel creation, uploading videos, increasing views and comments, and increasing subscribers. Our prices are very reasonable and can be tailored to your business's requirements. Our YouTube experts are highly qualified to guide you in promoting your videos.

We are a well-respected SMO Company in Chandigarh and offer Pinterest marketing services to increase your business's value. This helps you advertise your business in the best possible ways. Our Pinterest marketing services include account setup, creation of boards, pins, regular posting, increasing followers, and increasing engagement. All at very affordable prices. Our experts will assist you in increasing sales right away.
Result Oriented Best SMO Services
We at Pinaak offer Best SMO Services in India to all sizes of organizations, in order to make a positive difference in your life. This will allow your business to move in the right direction without taking on risk. You can easily maintain the brand image for your product by sharing the relevant information on social media channels. The concerned business will benefit if you post relevant information about the product and its location on prominent social media channels like Facebook, Twitter and Linkedin.
Why should you take Social Media Optimization (SMO) Services
You can interact with the product and increase brand recognition.
Maintaining strong social media presence is essential for a result-oriented Affordable SMO Services.
All SMO approaches help you to change your potential customers into more being loyal.

It allows you to attract the most important traffic to your sales product list and convert them in the highest possible lead.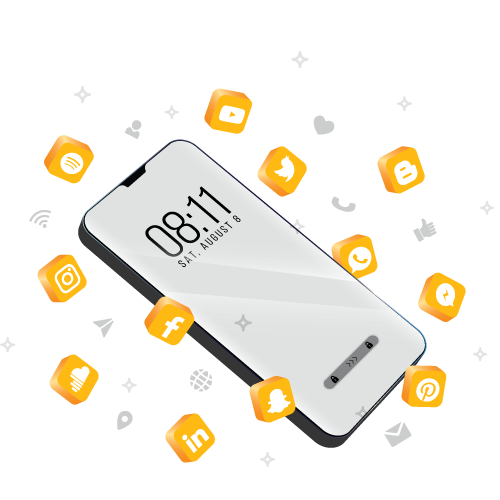 Our team believes in satisfying their customers by activating the relevant social media campaign. For offering suitable and customer rich experience, we built many social media application for doing the well in business with Facebook, Twitter, and other applications.